The Charlotte Geeks Book Club meets on the second Tuesday of each month from 7-8  pm at Park Road Books in the Park Rd shopping center.  Our illustrious leader and supreme book-chooser, Nathan, alternates the book choices between the fantasy and sci-fi genres.  We have a friendly discussion of the novel's plot points, characters, and themes (that mostly sometimes stays on topic), and then head next door for drinks, dinner and further discourse at Sir Edmond Halley's.  Drink local and order a Charlotte brewery beer on tap. 🙂
July Selection: The Long Way to a Small, Angry Planet by Becky Chambers
Running from her past, Rosemary finds herself aboard the Wayfarer employed as a clerk. Soon after, the motley crew of wormhole builders embarks on a dangerous assignment, otherwise known as the job of a lifetime, but this voyage might be more than they can handle.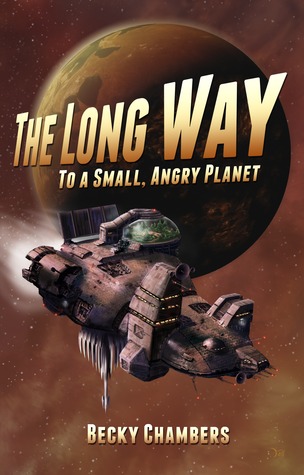 I LOVED this book! I'm sure by now, it seems like I don't like any of the book club selections as my reviews all seem to be rather negative, but not this time. I ♥ ♥ ♥ this one.
The author's style just immediately hooked me and although there was quite a bit of character development and world building, it never felt like I was slogging through endless exposition. In fact, I felt like I couldn't get enough, and I was excited for each new little bit of info.   I am happy to hang out with on the Wayfarer for hours on end, and lucky for me this book belongs to a trilogy. 😉
I 100% recommend giving this book a try. You will make new friends and explore new world, and probably, you will fall in love with an entire universe.
Would you like to join us next month? You can RSVP here on the Meetup site.
Don't forget to grab your copy of this month's selection from Park Road Books for a 20% discount!